Growatt has received the prestigious SolarProsumerAward© from EUPD Research. This award recognizes companies that have excelled in the fast-growing home renewable energy market, including photovoltaics, storage, electric mobility, heat pumps and energy management.
The SolarProsumerAward© is presented annually to companies that demonstrate exceptional performance in the areas of solar energy generation and consumption. At this year's Solar Solutions in Düsseldorf, Growatt was honored in the "Inverters" category.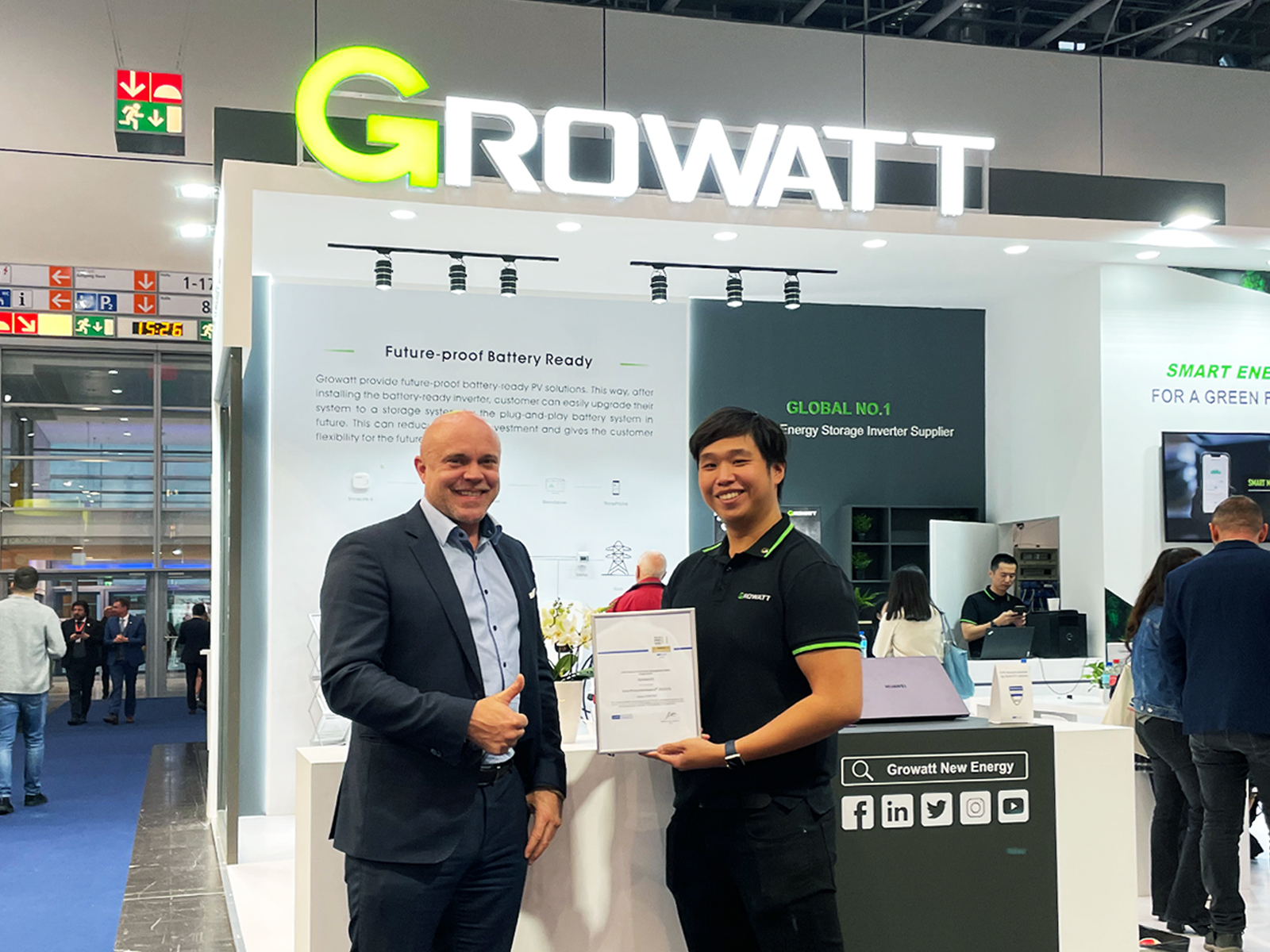 "Every year, EUPD Research surveys owners and planners of self-consumption PV systems, the so-called prosumers. Existing home energy systems consisting of PV modules, inverters, storage devices and the like are evaluated," said Markus A.W. Hoehner, Founder and CEO of EUPD Research.
"Based on this survey, this year's SolarProsumerAwards were given to manufacturers with particularly good results. Growatt was able to impress in the areas of brand awareness, recommendation and distribution among German prosumers and thus qualified for the SolarProsumerAward 2022/2023 the category 'Inverters'. We congratulate Growatt on this success," commented Hoehner.
"The SolarProsumerAward© is one of the most coveted awards in the solar industry and we are proud to have received it. This award is a confirmation of our team's hard work and commitment to provide the best possible solutions to our customers and bring solar energy a little closer to everyone," said Junning Xu, Product Manager of Growatt Germany, who accepted the award on behalf of the company.
As the world's leading provider of distributed energy solutions, Growatt specializes in sustainable energy generation, storage and consumption, as well as the digitalization of energy. In 2022, Growatt further established itself in the German market and has since been committed to providing its customers with high-quality and sustainable solar solutions.
Looking at 2023, the company plans to launch new solar energy storage solutions for homes and businesses in Germany to reduce its energy costs and transition to greener energy sources. Moreover, it's looking to expand its local service team in order to meet stronger demand for technical training and support as its popularity quickly grows in the market.
Source: pv magazine